RODNEY SQUARE IN WILMINGTON
Rodney Square is located at 1000 N Market St Wilmington, Delaware. Rodney Square has been considered as the heart of downtown Wilmington since the early 20th century. The festival at Rodney Square features our mainstage, beer and wine and a number of community displays.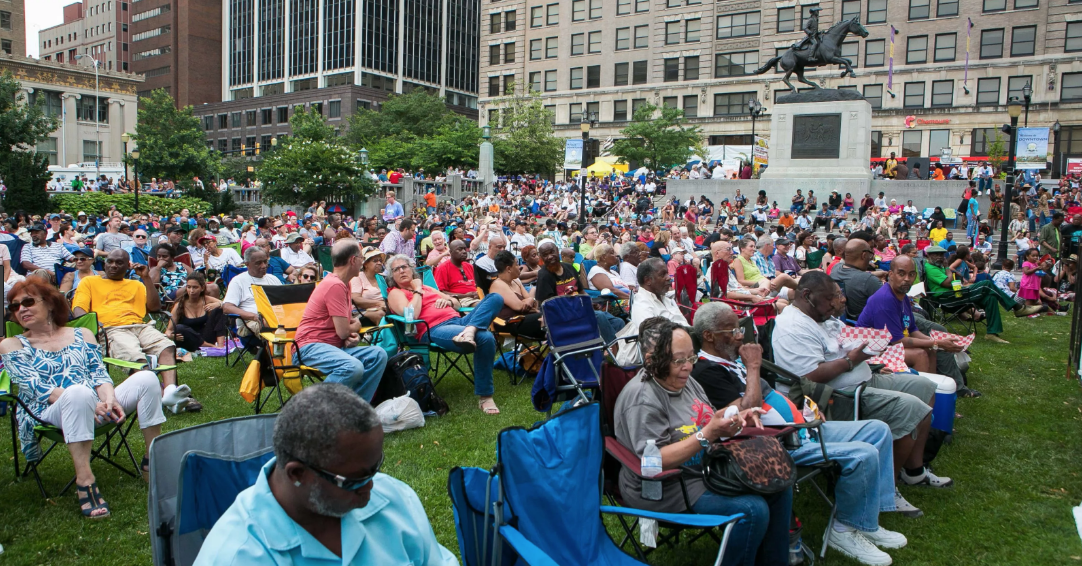 THE MEMORY, A LEGACY : CLIFFORD BROWN
Wilmington's own Clifford Brown was a trumpeter, whose life tragically ended early one summer morning in 1956.  The Clifford Brown Jazz Festival is Wilmington's tribute to a great man and his legacy. This year marks the 31st Annual Clifford Brown Jazz Festival and the 63rd anniversary of his passing.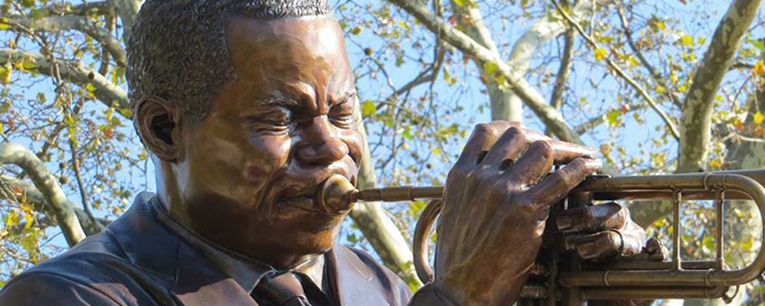 GETTING TO RODNEY SQUARE 
BY CAR
Rodney Square located in Wilmington, DE  is about two hours south of New York and 1.5 hours from Washington, D.C. Get directions to Rodney Square in Wilmington from your location. 
PARKING
There is limited on-site/street car parking available at Rodney Square. If you are unable to find parking on the street near Rodney Square, please explore one of the many affordable parking lots within walking distance of the Square. 
Seating
The Rodney Square mainstage viewing area is uncovered and includes a large general seating area on both the grass and stairs of Rodney Square. Patrons may bring blankets or low-backed lawn chairs (max 30") for lawn seating areas. No tents are allowed in lawn seating areas.
GENERAL POLICIES
All artists, set times and stages are subject to change.
••••••••••
Events take place rain or shine. If severe weather becomes an issue and we need to interrupt programming, announcements will be made regarding safety procedures. Programming will resume when deemed safe.
••••••••••
All persons, bags and personal items are subject to inspection before or during the festival.
••••••••••
Any attendee that directly or indirectly interferes with the enjoyment of the festival may be asked to leave the venue and may be subject to arrest and prosecution by State/Local Authorities.
••••••••••
The Clifford Brown Jazz Festival encourages a smoke-free environment and asks that you respect the health of your neighbors at the festival and refrain from smoking in any area where it may affect someone else. Smoking is prohibited under all tents and inside buildings. Please find an isolated area if you must smoke, and dispose of your butts properly.
WHAT TIME DOES EVERYTHING OPEN?
Wednesday, Thursday and Friday show begins at 5:30 PM
Saturday show begins at 1 PM
FOOD vendors open at 12 noon

Times subject to change. Sign up for the email list to be notified of any changes.
WHEN IS THE SCHEDULE POSTED?
The schedule can be found on our homepage!
IS THERE CAMPING ON-SITE?
Sorry, no camping is available at Rodney Square but there are plenty of hotels not far from the festival grounds. Also, check out Visit Wilmington for additional places to stay and play in Wilmington. 
WHAT IS ALLOWED INTO THE FESTIVAL GROUNDS?
Only one small hand held cooler (no larger than 16″ x 12″)
An individual blanket (Maximum size 6' x 8′)
Strollers that are reasonably sized and do not obstruct the view of others
Low-backed chairs (under 30″) 
Cameras are permitted but cannot be used to reproduce the event and must not interfere with other fans' enjoyment of the festival (AUDIO CAPTURING IS NOT ALLOWED)
Good attitude
Open mind
Love of music
 WHAT IS PROHIBITED?
Alcoholic beverages, illegal substances of any kind, firearms, noise-making devices, laser pointers, knives, box cutters, tools of any kind (including Leathermen) pepper spray, Mace, or any kind of item that could be used as a weapon. Beverages in plastic bottles or cans must be factory-sealed.
Flag poles
Commercial audiovisual equipment
Tents, chairs with roofs over 30", umbrellas and shade structures are prohibited in lawn seating areas.
Beach umbrellas or beach balls (because they could end up in the bay and hurt the wildlife)
No chairs over 30" are allowed and no chairs under 30" are allowed in the "no chair zones."
No pets
FOOD VENDORS
We have some great food vendors on-site. Stay tuned for 2019 vendors. 
OFFICIAL MERCH STATIONS
Bring a piece of the Clifford Brown Jazz Festival home with you! Official Clifford Brown Jazz Festival merchandise is available for purchase under the merchandise tent.
Sponsors