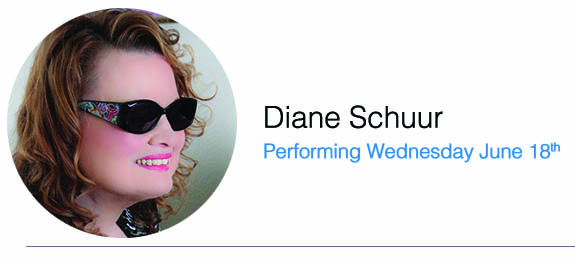 Vocalist/pianist Diane Schuur is as eclectic as she is brilliant. A longtime disciple of Dinah Washington and other legendary jazz singers of the '40s and '50s, Schuur has built a stellar career by embracing not only the jazz of her parents' generation, but also the pop music of her own youth during the late 1950s and '60s. In a recording career that spans nearly three decades – and includes two Grammy Awards and three Grammy nominations – Schuur's music has explored nearly every corner of the 20th century American musical landscape.
Born in Tacoma, Washington, in December 1953, Schuur was blind from birth. She grew up in nearby Auburn, Washington, where her father was a police captain. Nicknamed Deedles at a young age, Schuur discovered the world of jazz via her father, a piano player, and her mother, who kept a formidable collection of Duke Ellington and Dinah Washington records in the house.
She was still a toddler when she learned to sing the Dinah Washington signature song, "What a Difference a Day Makes." Armed with the rare gift of perfect pitch, Schuur taught herself piano by ear and developed a rich, resonant vocal style early on, as evidenced in a recording of her first public performance at a Holiday Inn in Tacoma when she was ten years old. She received formal piano training at the Washington State School for the Blind, which she attended until age 11. By her early teens, she had amassed her own collection of Washington's records and looked to the legendary vocalist as her primary inspiration.
Schuur made her first record in 1971, a country single entitled "Dear Mommy and Daddy," produced by Jimmy Wakely. After high school, she focused on jazz and gigged around the northwest. In 1975, an informal audition with trumpeter Doc Severinson (then the leader of the Tonight Showband) led to a gig with Tonight Showdrummer Ed Shaughnessy's group at the Monterey Jazz Festival. She sang a gospel suite with Shaughnessy's band in front of a festival audience that included jazz tenor saxophonist Stan Getz, who in turn invited her to participate in a talent showcase at the White House. A subsequent return performance at the White House led to a record deal with GRP, which released Schuur's debut album, Deedles, in 1984.
Over the next 13 years, Schuur recorded 11 albums on GRP, including two Grammy winners: Timeless (1986) and Diane Schuur and the Count Basie Orchestra (1987). The recording with the Basie Orchestra spent 33 consecutive weeks at No. 1 on the Billboard jazz charts. In 1991, Pure Schuur made the number-one slot on the Contemporary Jazz charts, andHeart To Heart – a 1994 collaborative recording with B.B. King – entered the Billboard charts at No. 1.