Norman Brown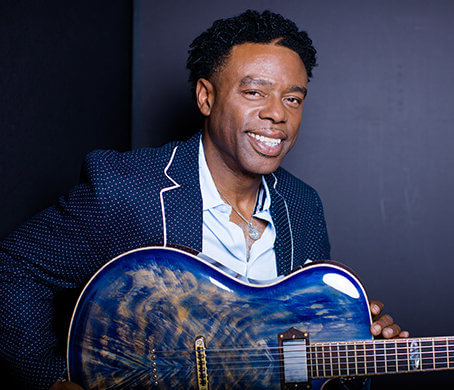 Grammy Award-winning Contemporary Jazz/R&B superstar Norman Brown has sold close to two million albums in his extraordinary career and virtually lives at the top of the Billboard Contemporary Jazz sales and radio charts. Having shared the stage with virtually every Contemporary Jazz superstar from Boney James to Dave Koz to Gerald Albright.
Born in Shreveport, Louisiana, and raised in Kansas City, Missouri, Norman Brown first picked up a guitar at the age of 8. First inspired by Jimi Hendrix, it was his father's preference for the sound of Wes Montgomery that set Brown on his stylistic journey.
After high school, he moved to Los Angeles to pursue his musical career, attending the Musician's Institute, where he also taught for a short time. While playing with his own group in local clubs, and drawing comparisons to George Benson, Brown was discovered and signed to the fledgling MoJazz label, a division of Motown. He delivered his debut album, Just Between Us, and followed with the gold-certified After The Storm and Better Days Ahead.
With the critical acclaim and sales behind him, the talented musician made the leap to Warner Bros. and released Celebration, which first teamed him with producer Paul Brown. The follow-up, Just Chillin', earned Brown much-deserved Grammy recognition in the best pop instrumental category. That project was followed by his release West Coast Cooin', where Brown tested out his skills as a vocalist, a move that was embraced by the urban AC radio market and found him topping the charts.
In 2002, Brown debuted his smooth jazz supergroup with saxophonist Kirk Whalum and trumpeter Rick Braun, BWB, with the album Groovin'. He then returned to his solo work with 2004's West Coast Coolin', followed two years later by Stay with Me on the Peak label.
Brown's audience has been expanding over the years. His compilation The Very Best Of Norman Brown was one of the best-selling smooth jazz albums of 2005 and 2006. Armed with the knowledge of who he is as an artist, Brown says he spent just four months in the studio making Stay With Me – his shortest recording time on a project ever.
Brown then signed with longtime jazz label Concord and released 2010's Sending My Love. Two years later, he paired with saxophonist Gerald Albright for the Concord release 24/7. Also in 2013, he rejoined BWB for Human Nature. In 2016, Brown continued to split his time, releasing his third album with BWB.
Let It Go, Norman's inspired debut album for Shanachie Records has something for everyone, whether an R&B fan or a jazz aficionado. From "Holding You," his sensuous collaboration with R&B great Chante? Moore and Norman's re-imagining of the Five Stairsteps classic "Ooh Child" to the smoothly grooving "Remember Who You Are" and the serenely inspired "Let It Go," Norman also features his daughter's group Sisters of Unbreakable Love on the insightful "Conversations" and uplifting "Living Your Destiny". Let It Go is Norman Brown at his best.